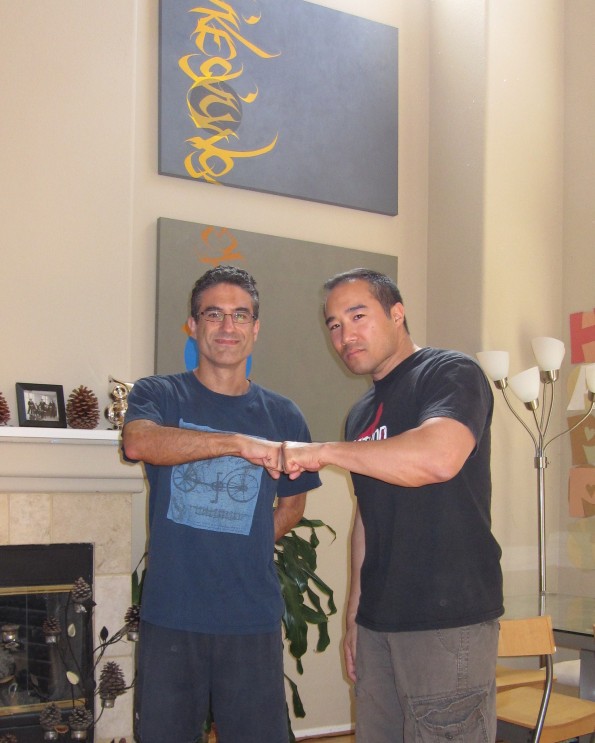 I had the pleasure of spending some time with Lyle McDonald over the weekend before he made his way off to compete in an inline skating event in Napa, CA. We met at BJ's Brewhouse for some grub, then went for some Starbucks dessert beverages (well, at least I did). I knew that my kids would attack Lyle when we got to my house, so it was funny to see it actually play out, and Lyle was a good sport about it. The following day, we headed to Gold's Gym and did our own separate training.
Common Threads
One of the things that struck me in discussing various topics was just how different the driving motivational forces are between endurance athletes vs others. He keyed me into the concept of "running from inner voices" – mostly in the figurative sense. Another thing that struck me was the ironic similarity between solo endurance athletes and other solo athletes such as bodybuilders, whose sport, at least in the precontest phase, is largely a matter of endurance. Both types of athletes tend to push themselves to the limits of physical and psychological tolerance for prolonged periods, just in different scales & contexts. Keep in mind that Lyle is the true athlete between the two of us. I mainly train to get attention from my wife, while Lyle trains to test his prowess against formal competition.
Intensity   
An interesting thing Lyle relayed to me was how he has been able to make his greatest gains in endurance by learning how to conserve his application of intensity when training for an event – as opposed to constantly pushing the envelope of high intensity intervals in the common "more is better, stop when you collapse" approach. More detail on methods of endurance training can be delved into with a multi-part series Lyle wrote beginning here (if you want to go straight to threshold training, it's here in part 4). While I'm mentioning his reading material, anyone seriously interested in nutrition and supplementation for mixed sports (i.e., football, soccer, middle-distance events, etc) should check out his latest book/DVD lecture series here.
Individualization
While Lyle is exhaustively familiar with the various approaches to endurance training, he's also keenly aware of how he personally responds. Having a solid grasp of the research has allowed him to synthesize applications that work best with his individual profile from both a psychological and physiological standpoint. One of the natural progressions of the advanced trainee is an abandonment of certain aspects of traditional/conventional wisdom, in favor of individual response. 
At the End of the Day 
I had a great time & learned a lot hanging out with one of the top minds in the field. But more than this, I just needed an excuse to post that awesome pic above.
UPDATE: Lyle won the race.