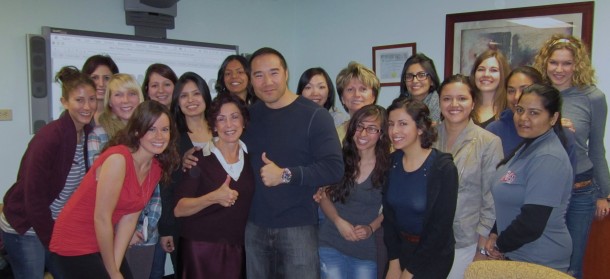 Full-on brofessor mode
The above pic, taken earlier today, is of me & the nutritional counseling class of Dr. Terri Lisagor, at California State University, Northridge.  Dr. Lisagor was one of my nutrition professors in my undergrad, and she's one of the most well-rounded, successful, big-hearted people I know. She regularly invites me to lecture to her students on a range of topics from sports nutrition, altering body composition, and counseling various client types.  The teaching sessions consist primarily of Q & A with the students, and me coming apart by the jokes & wisdom that Terri interjects as I answer the students' questions.  Most of the students are in their final year of undergrad, and they still have fire in their eyes & the will to learn. I always get a very gratifying kick out of watching the students (& Dr. Lisagor) furiously type and scribble notes as I ramble on & off-topic.
General notes
Thanks for your feedback on the previous post about paper credentials versus the fitness industry. A lot of insight was shared, and a lot of food for thought was dished out. As evidenced by the pic above, I have an affinity towards nutrition education, and not just because the dietetics field is 95% women. Also, thanks for your feedback in general on this blog. I'm still pretty stunned that it gets the traffic it does, especially since my blogging frequency would make any social media guru wince & frown in disapproval.
I realize it's been months since I've posted, and I wanted to assure all of you that I haven't given up blogging for good. I've just been busy with more pressing things, the big 3 being AARR, my ongoing work with Men's Health magazine, and of course, my rambunctious but lovable stable of clients. As soon as I can reign my projects into a more managable melee (especially pulling forward the AARR posting date), blogging will have to take a backseat. I have a post cooking right now & I'm dying to get it out, but not until I handle the first things first.
Summit alert
For now, I'd like to alert everyone that registrations are now open for the JP Fitness Summit 2011, May 13-14 in Kansas City, MO. Here is the info & registration page. If you've been thinking about attending for some time now but never pulled the trigger on it, listen to best-selling author/industry oracle Lou Schuler talk about it in Episode 204 of The Fitcast. He doesn't even need to try to sell it; all he needs to do is relay facts about it and you'll get the vibe of how great it is… And with that, I gotta go. I'll be back after slaying a few more dragons (while eating an alarming array of non-Paleo foods).
_______________________________________________________________________
UPDATE: Head over to Leangains.com & check out my guest article critiquing the ISSN's position stand on meal frequency.
_______________________________________________________________________