Quick Announcement & Product Plugs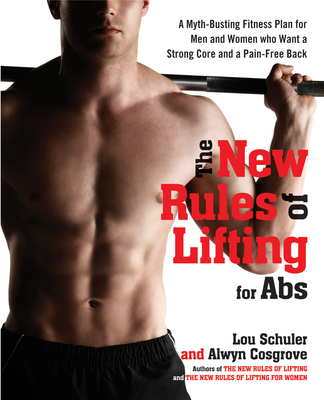 The Fitness Summit is about a week away (May 13-14th), and I'm one of the speakers. If it's feasible for you to make it, there's still a little bit of time left to take the plunge. Here is the info & registration page. Listen to Lou Schuler describe it in detail in Episode 204 of The Fitcast. 
Speaking of Lou, I'd like to shamelessly plug his new book, The New Rules of Lifting for Abs, co-written by Alwyn Cosgrove. It's a very fast read, and it contains plenty of solid information. I would say that the most appropriate target for this book is the lay audience in the beginning-to-intermediate stage of their training. I realize plenty of the readers of my blog are in the advanced stages, so consider getting this book as a gift for folks who you'd like to get started on the right foot. Also, don't be surprised to find new exercise ideas for yourselves and/or your clients. The focus of the book is 'core' training, and it clarifies the many misconceptions surrounding that. A more detailed review of the book by JP Fitness moderator & friend of mine, Roland Denzel, can be found here. You'd be very hard-pressed to find a bad review of any of the books in the 'New Rules' series.
So, hurry up & register for the Fitness Summit. You'll get to pick the brains of Lou & the rest of the speakers for 2 days straight. Again, details about the speakers & registration are here. Lou's book is available at all of the following: Amazon | Borders | Barnes& Noble | Penguin | Indiebound

The next plug is for 2 products by Xtreme Formulations: Ultra Peptide (a casein-dominant protein powder) & Ultra Peptide Whey. Understand that I don't have a formal endorsement deal with these guys, so there's no vested interest here other than to spread the word that these products taste so good, they can legitimately be used to replace traditional desserts. My personal favorite flavors of Ultra Peptide Whey are Arctic Lemon, Mint Chocolate, & Mochaccino. My faves in the casein variety are Chocolate & Lemon Creme Pie. Cinnamon Roll is a popular one as well. I'm not exaggerating when I say that Ultra Peptide (the casein version, not the whey) is the best tasting protein powder I've tried thus far. It can turn pretty much any plain food (yogurt, cottage cheese, oats, etc) into something that tastes absolutely indulgent.
One more thing….
The RSS feed for Martin Berkhan's site apparently wasn't working during the time he posted my guest article, so I'll link it here.
That's all, folks. I'll be pretty darn busy between now & the Summit, so answering questions relating to this blog post will be out of the question. Instead of leaving people hanging, the comments function will be closed. I'll be back in a bit. In the mean time – train smart, eat heavy.
SCCRRREEEEECH…. Alright, how about another update?
New article just posted at wannabebig.com: The Dirt on Clean Eating.