MonaVie versus Two-Buck Chuck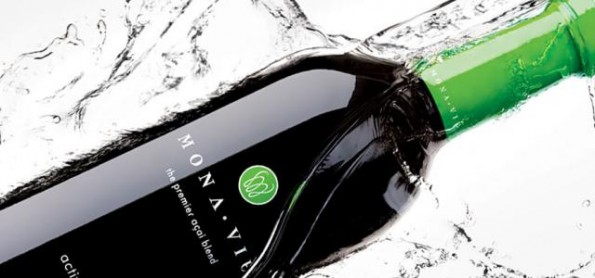 This post is inspired by an article called Berried in hope: a scientific look at the implications of exotic fruit juice marketing, the main article in the May 2008 issue of AARR. I find this topic interesting because it's so highly misunderstood by so many. Not to mention, big bucks are flowing through an industry that makes a lot of promises – but does it fulfill them?
Meet the competitors
Charles Shaw wine is also known colloquially as Two-Buck Chuck. As its moniker implies, Charles Shaw runs 2 to 4 bucks a bottle. It's sold exclusively through Trader Joe's grocery stores, which are numerous throughout the US. Despite their dirt-cheap price, the 2002 shiraz and  2005 chardonnay have topped the field in prestigious wine competitions. Although Charles Shaw is available in a variety of types of reds, I'll refer to red wine as a general category.
MonaVie is a direct sales-based company whose namesake beverage is a blend of juices featuring the acai berry. Arguably, no other fruit has garnered acai's level of media hype. Acai has become a household name, due in part to best-selling author Dr. Nicholas Perricone proclaiming it to be the #1 superfood. As of this posting, MonaVie is ranked #18 on Inc. Magazine's top 5000  private companies in the US, with 2009 revenues totalling $854.9 million. This is about double the annual revenue of the entire catalog of Charles Shaw's parent company, Bronco Wine CO. Monavie's product line has expanded with variations of the original juice blend, but each product's key ingredient is the acai fruit.
Antioxidant capacity
The primary selling point of MonaVie is the antioxidant capacity of its acai berry content. The overhyped importance of antioxidant products is a separate topic altogether. Here, we'll focus on how strong the antioxidant claim is. On MonaVie's website, they cite a 2006 study showing that a freeze-dried acai powder has the highest oxygen radical absorbance capacity (ORAC) of any food tested to date [1]. Since ORAC is a measure of antioxidant effect, MonaVie proponents use this research to support the claim that the acai berry is the king of the antioxidants.
Here's what a lot of people miss: ORAC is not the only way to assess antioxidant capacity.
A subsequent study using a more comprehensive assessment panel on 10 commonly consumed polyphenol-rich drinks yielded some interesting results [2]. In addition to ORAC, 3 other antioxidant tests were administered: trolox equivalent antioxidant capacity (TEAC), free radical scavenging capacity by 2,2-diphenyl-1-picrylhydrazyl (DPPH), and ferric reducing antioxidant power (FRAP). In addition to the 4 antioxidant capacity tests, they measured inhibition of low-density lipoprotein (LDL) oxidation, and total polyphenol content by gallic acid equivalents (GAEs). Each of the 6 tests was equally factored into determining overall antioxidant potency. Here's how the beverages ranked:*
Pomegranate juice
Red wine
Concord grape juice
Blueberry juice
Blackberry juice
Acai juice
Cranberry juice
Orange juice
Iced tea (green, black, & white tea collectively)
Apple juice
*Caution is advised against the tendency to judge foods based on a single parameter such as antioxidation. Many people will automatically perceive the above list as a good-to-bad continuum. Don't fall into that trap; all foods have unique nutritional benefits aside from their antioxidant effects. 
When acai juice was put through a more thorough battery of testing, it ended up with a humble ranking at #6, while red wine came dangerously close to the top spot held by pomegranate juice. As this study indicates, the claim that acai berry is unquestionably the most potent antioxidant is false.  For those itching to cry "foul" because MonaVie wasn't used in this study, I'll quote the researchers who were already a step ahead of that concern:
"…the acai juices in Figure 1 and Tables 1 and 2 did not include Mona Vie, the premier acai blend, because it is a blend of acai and 18 other fruit juices. The Mona Vie data show the polyphenol and antioxidant index to be in the same range as for the acai juices reported or in the midrange for all beverages analyzed in this study."
Chalk one up for Two-Buck Chuck.
Bang for the buck
Charles Shaw wine is famous for its low price (2-4 bucks a bottle). In contrast, MonaVie is famous for being about $40 per bottle. Imagine that, you can get 10-20 bottles of Charles Shaw for the price of 1 bottle of MonaVie. Sounds like a party. You can drink a ton of MonaVie, and the only buzz you'll get is your phone vibrating with your accountant calling to say, "You're KILLING me Larry!"  Chalk up another point for Charles.
The obnoxiousness factor
Charles Shaw just sits quietly on the shelves before getting snatched up by customers who voluntarily seek it out. MonaVie has independent sales reps that nag you to attend a "tasting" where you're politely obligated to become either a MonaVie distributor or simply a customer. This is multilevel marketing, where you'll inevitably mix family and friends with business (not a good idea). Give good ol' Chuck another point, and a final nod for the win.
__________________________________________________________________ 
References
Schauss AD, et al. Antioxidant capacity and other bioactivities of the freeze-dried Amazonian palm berry, Euterpe oleraceae mart. (acai). J Agric Food Chem. 2006 Nov 1;54(22):8604-10. [Medline]
Seeram NP, et al. Comparison of antioxidant potency of commonly consumed polyphenol-rich beverages in the United States. J Agric Food Chem. 2008 Feb 27;56(4):1415-22. [Medline]