Interviewed by Wisconsin's Polytechnic University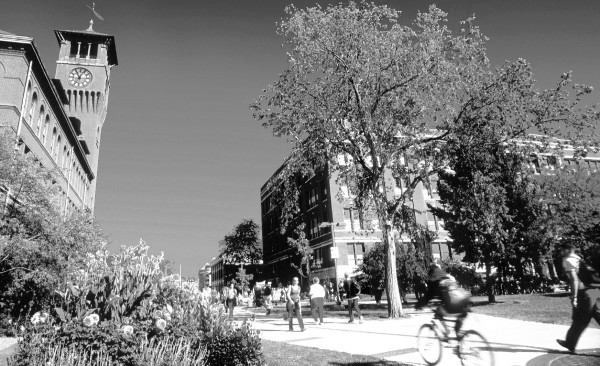 It's been more than a decade since I graduated from college, but the memories are vivid and most of them are good. I was recently contacted for an interview with Anoop Balachandran, coordinator of the Health & Fitness Center at the University of Wisconsin-Stout. This interview will appear in the Fitness Center's newsletter. By the way, Anoop maintains one of the few blogs out there with useful, research-based information (exercisebiology.com). The questions I answered were a pleasant diversion from the ones I typically get from the more advanced/technically inclined audience. While the latter are also important, they only apply to the minority of the population. In the following exchange, more of a general college student audience is addressed. Without further ado….
_________________________________________________________________________
Are there 'bad' foods and 'good' foods? And is it ok to eat a donut?
First let me thank you for the opportunity to reach the students here. Answering the question, labeling foods as "good" or "bad" is a false endeavor from the start, mainly because it ignores context. All foods in isolation can't be judged without knowing their proportional contribution to the diet. Even seemingly "bad" foods such as donuts can be perfectly neutral (& even beneficial in a psychological sense) as long as they only comprise a minority of the diet. There's no compelling research evidence suggesting that a diet whose composition is 80-90% whole & minimally refined foods (with the rest coming from miscellaneous indulgent foods) is not prudent enough to maximize health, particularly in physically active populations. Moderation & not tagging any foods as taboo or off-limits is the best way to sustain good dietary habits in the long-term.
There are so many diets out there. But which one do you think is the best, and why?
In a similar sense that foods cannot be inherently good or bad, the same applies to diets. A universally superior diet really does not exist, since the goals, preferences, & tolerances vary with the individual. When examining the spectrum of low-carb to high-carb diets, the choice along the continuum mainly boils down to which one you can best adhere to. With respect to meeting supply & demand, those with a higher volume of training will tend to do better on more carbs, while those who are more sedentary with minimal training demands will do better on less. A blanket recommendation for diet type simply cannot be issued here due to variations in both lifestyle & genetic predisposition across individuals. What CAN be issued as a general recommendation, once again, is to strive for the majority of the diet to come from whole & minimally refined foods. By the way, there are exceptions to this (ie, high-quality protein powders, which are refined foods but still can impart health benefits), but it's still valid as a generally applicable guideline.
What would you advise a 19-year-old female who wants to lose weight and look toned?
I would first have them focus more on body composition (indicated by clothing fit, comparison pictures, mirror feedback, & in some cases more specialized body comp tracking) rather than total bodyweight. 19 year-old women in many cases have not reached their full potential for bone density, so placing the focus on the scale could be counterproductive from a health standpoint. Not to mention, weight fluctuations due to their monthly cycles can also play serious head games if the scale is used as the main gauge of progress. I would have them honestly examine their eating habits and pinpoint the aspects they are habitually overdoing (ie, empty-calorie intake & oversized portions), and simply pull back on those, rather than taking the all-or-nothing approach of complete avoidance or drastic reductions in overall intake. A moderate caloric deficit should be sustained, along with consistent training and enough regular time off. I would also emphasize the importance of a well-balanced training program that includes resistance training with sound progression. The latter tends to be overlooked by women, yet it's critical for optimally improving body composition & maintaining those improvements.
How about a 19-year-old guy who wants to pack some muscle?
Guys in their late teens need to first realize they won't reach true skeletal maturity for another decade or so. Drugs & genetics aside, it's no coincidence that the top-tier bodybuilders in the world are mostly in their 30's, with a good handful in their early 40's. These guys are skeletally mature, and thus have the underlying architecture to hold a maximal amount of muscle. What I'm getting at is that "packing on muscle" in your late teens is not a process that can be hurried, and most guys in their late teens will not be able to accumulate truly substantial levels of muscle mass until they break into their mid-20's. That's just the reality of the matter, like it or not. Sure, there indeed are massively muscled 19 year-olds, but they typically are the gifted (or drug-enhanced) exception rather than a realistic benchmark for goal-setting.
With all that said, novices with the primary goal of mass gain should strive to cover their protein & total calorie needs, and not be disappointed in slow but consistent gains. For a 19 year-old who's just starting out, putting on 15-20 pounds of muscle per year in the first 2-3 years of consistent training is a very respectable accomplishment. Gains in the advanced stages (more than about 4 years of consistent progressive training as an adult) will typically slow down to half of that rate, at best.
With the holiday season coming up, do you have any tips for holiday eating?
My main tip is to relax and enjoy the food as much as the time spent with family & friends. Using the holidays as an excuse to stuff yourself silly for days on end is a bad idea, but so is the other extreme of trying to steadfastly adhere to a rigid diet. Use surplus calories from holiday eating as a time to set some personal records in your chosen sport or training activity.
What do you think are the three major nutritional mistakes people commit when they try to lose weight or gain weight?
The biggest mistake in either losing or gaining weight is not having realistic goals & expectations. Keep in mind, the following guidelines are general, and apply to the majority, so exceptions exist. For fat loss, roughly 1-2 pounds a week is plenty. For muscle gain,  roughly 1-2 pounds a month is plenty. Sorry to burst anyone's bubble who's been watching the Biggest Loser or seeing how Joe Gymrat gained 20 solid pounds in 2 months (which is typically rebound weight gain after prolonged dieting). While progress can indeed occur faster in the initial stages of a program, expecting to exceed those benchmarks in the long-term puts most people at risk for experiencing frustration & dropout. There are always exceptional cases, but following these limits can prevent most folks from overeating while gaining & undereating while losing.
A common nutritional misconception for either weight loss or gain is the idea that there are "special" foods that will get the job done faster or better – and conversely, the idea that "bad" foods that will critically hinder the process. Another common mistake for weight loss is placing an over-emphasis on cardio & an under-emphasis on resistance training. Preserving as much muscle as possible while losing fat is important for long-term success. The preservation of muscle during weight loss can be indicated by how well you can maintain your lifting strength. If strength is dropping precipitously, then undue losses in muscle are likely to occur as well.
Where can we read more of your writings, Alan?
My most comprehensive & current material is in my monthly research review, and an ongoing index of the topics covered can be seen here.
Do you have any final comments or thoughts, Alan?
College students as a group should realize that the pursuit of physical fitness goals can be a good thing, but it can also be taken to obsessive levels that disrupt a healthy balance of focus on other aspects of life. Just remember that there are far more fulfilling rewards in life than merely having six-pack abs & bulging biceps.