Paper Credentials Vs. The Fitness Industry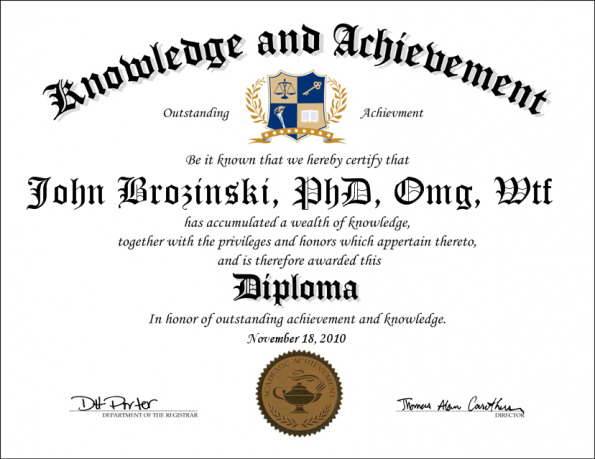 Is the fitness industry unique?
The fitness industry appears to be unique in its ability to facilitate career success despite a lack of what I call paper credentials (letters after your name). Before I go on with this, it might be a good idea to set some operational definitions for fitness industry & career success. The latter term is highly subjective, so let's just define it as the ability to make a decent living. I'm not necessarily talking about getting filthy-rich, but at least being able to comfortably cover your independent living expenses without needing a night-job where dollar bills are waved at you. 
Next, let's define the fitness industry itself. Let's just figure this encompasses any field related to improving the body composition or physical performance of the healthy population through diet and/or exercise programming.  This section is titled as a question because this is the only industry I've been professionally involved with. I don't have any first-hand experience in other industries, so the uniqueness of this aspect of the fitness world is mainly an assumptive observation I've made.
So, here's the point. It seems to me that paper credentials are not nearly as crucial for success in the fitness field as they are for success in other fields. This is especially the case with entrepreneurs – particularly those whose business is primarily internet-based.  I'm not aware of any formal research on this topic, but I would venture to guess that the fitness realm has a large proportion of entrepreneurs. This demographic obviously has little concern for employer acceptance, so their main entrance requirement into practice is a big set of cojones. Also, a knack for effective marketing is often what separates the highly successful fitness entrepreneurs from the average ones.
The good & the bad about such an open industry
Fitness industry credentialing  is largely based on certification. This allows people to take  more focused and efficient routes toward adeptness in their chosen skill set. Anyone who has a college degree related to nutrition or exercise is well-aware of the battery of irrelevant, time-wasting, life-bleeding courses (in addition to the relevant ones) required to get the degree. There are several instances where I've heard people attest to learning more in their 3-day certifications than in their 4-year degree. This is kind of sad, but it's true. Furthermore, in the fitness field, personal trainers can get hired almost anywhere, as long as they're certified.
The good thing about certifications is that they cut right to the relevant information, and omit the trivial courses common in college curriculums. This is good in the sense that plenty of industrious people with advanced degrees in unrelated fields have made a rapid switch over to the fitness field due to its low entrance hurdles. Thankfully for many folks contemplating a late career change, the fitness field is free of the traditional entrance barriers of other professions. But of course, there's a dark side.
The fitness industry is famous for being chock-full of quacks and charlatans. There are heaps of people running their mouths online and off, pontificating about this nutrient or that, this way of training or that — without having learned the physiological basis for such recommendations or protocols. The fact that this field has so many wackos makes it difficult for the consumer to discern whose material is scientifically based, and whose material is a lot of hot air. This is the unfortunate side of the picture, but it's also part of my point — you can be devoid of scientific knowledge (or you can create your own brand of pseudoscience), and still become successful in the fitness industry.
A little about entrepreneurship versus employment
Again, if you plan on approaching a large company for employment, degrees can not only help, but in many cases are required for being remotely considered for the job. Degrees can also help facilitate an easier climb up the corporate ladder, and allow higher pay rates. However, entrepreneurship is a different animal, especially in the fitness industry. In many cases, a great physique will get you more clients and/or customers than having a string of letters after your name. Aside from a miniscule minority, clients truly don't care what certifications trainers have. They just want to know if your clientele gets results, and that you actually care about them enough to show up for appointments.
Entrepreneurship in the writing vein is a whole other topic that could easily warrant its own post, but here's what I've learned. The people who give up their hard-earned money for fitness information products do not do so on the basis of how many advanced degrees the author has. Now, this may be different in the realm of medical information for diseased populations, but for the healthy population aiming to either look or perform better, there seems to be a different set of prerequisites in the eyes of the clients & customers. Case in point – how many of you reading this blog give a rat's ass about my degrees? I didn't think so.
Just a few examples
Perhaps the best way to illustrate my perspective of this topic is by providing a few real-world examples of entrepreneurs whose material I've followed at some point (or still follow).  The common thread among them is their success despite their non-reliance on paper credentials.
Wrapping up
There are plenty more examples worth discussing (Alwyn Cosgrove [correction: I was just informed that Alwyn indeed has a master's degree in exercise science, but the fact that I was unaware of this speaks toward my point that he doesn't necessarily use it to tout his expertise], Jamie Hale, Leigh Peele, JC Deen, & the list goes on), but this piece is already running too long. Let me stress that this was not meant to be an anti-college article, nor was it meant to indiscriminately rail against advanced formal education. There obviously are brilliant & successful folks in the fitness industry who have advanced degrees (James Krieger, Emma-Leigh Synnott, and Layne Norton immediately come to mind). However, my point stands that becoming successful in the fitness industry – especially as an entrepreneur – is not critically hinged upon paper credentials.
I'll end off by mentioning what I feel is one of the most effective training grounds for fitness entrepreneurship: being an employee. For anyone thinking of creating a successful business, spend some time first as an employee – even if it's for a limited but long enough stint to get a feel for what consistently produces results. This way, you'll be able to minimize your risks & use your corporate experience toward more smoothly navigating your own company. Here's a short list of certifying bodies that I feel are worth the investment for those seeking to get a foot in the door:
BREAKING  NEWS:  David Miklas just created more video brilliance (here).