Starting to look back a lot more.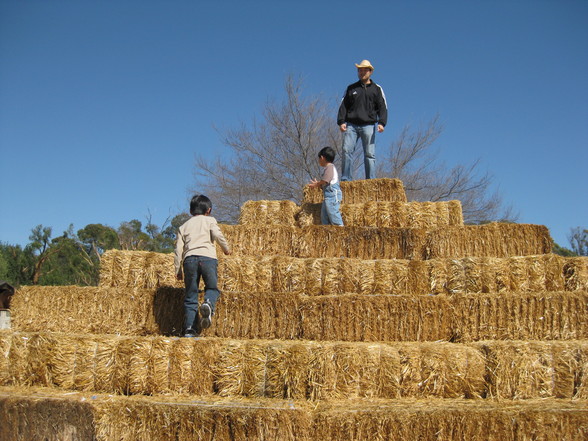 The fact of the matter is, I wasn't always a model student. My original objective for getting a degree in nutrition was pretty frivolous – to have a unique credential among personal trainers. Amazingly enough, I intended to make a life of personal training – which didn't end up panning out. Based on the evidence, I was destined to be glued to the computer rather than hands-on client work at the gym. Anyway, the point is, my underlying goal for the nutrition degree was to just get it over-with, so I could be more marketable than most personal trainers. In contrast to my lackadaisical waltz (& mediocre performance) through the undergrad, I got straight-A's through my master's degree in nutrition because I was actually interested in the topics. Timing is important; interest can't be forced.
The class that shaped my future
The most profound change in my educational enthusiasm occurred during my graduate work in nutrition, in a research methods class. I had a professor in the late 1990's named Brian Koziol, who had a brief stint as a part-time professor at CSUN. At the time, he was employed at Amgen, and as far as I know, he still is.
Brian Koziol's passion was research — more specifically, dissecting it. What makes a good study? What makes a not-so-good one? What constitutes a true butcher-job of a study in terms of external and/or internal validity? Koziol actually tried to get the class interested in picking apart the strengths and weaknesses of studies. I'd say he succeeded with a handful of the class, but the majority were sort of lost on the point. In my opinion, he forgot to get across to the class why this exercise was important in the first place.
If I were to teach his class, I'd begin with the philosophy of science, and then move into the continuum of evidence. Heck, I'd even burden the class with the philosophy of evidence. I'd sincerely ask the class if they believed that science as an underlying philosophy is important, and why. I'd also belabor the elements of scientific thought, and why this is important in the battle against the bullshit products and protocols that pervade the health & fitness industry.
Perhaps not too surprisingly for those who've followed my work, Koziol's research methods class was my single greatest career influence. There were other catalysts (such as the work of Lyle McDonald) that led to the materialization of my research review, but Koziol's class – which I took more than a decade ago – was the foundation for that.
Notes for the students
Back to my presentation at the career symposium… Each year it forces me to introspect upon what makes me tick, and what makes my career something I happen to be very happy with. Here's a relay of some of the important bits of advice I threw at the students:
Come to grips with what it is you're absolutely nuts about (not just vaguely interested in). This is what you should be doing as a career.  Try to recall the last time you did an exceptional job at something you couldn't give half a crap about, and my point becomes clear.
It's ideal to match your interests with your talents, but skill can always be developed; whereas the desire for a particular job cannot always be developed. Do not pursue a career merely because you think it's a prudent or safe choice. This naive capitulation has been the kiss of death for many.
There's a market for EVERYTHING, but just be aware of how large or small that market is, in order to estimate your earning potential.
Experience builds confidence. Don't expect to be polished right off the bat. Get in the trenches, get dirty, but try to learn as much as you can from the mistakes of your predecessors. The career series I wrote to kick off this blog should give anyone contemplating a fitness career ample food for thought.
Your perception of success will change over time.  Your interests & goals will evolve over time. It's crucially important to be aware of this metamorphosis and act upon it regularly. We get so caught up in the mind-numbing routine of our work week, that it's easy to lose touch with where we are, versus the direction we need to be moving. The solution? Do a "blank sheet day" at least once a year. This is an idea I got from a highly successful friend of mine, Daryl Wizelman. What you do is block out an entire day once a year to be by yourself. The whole day – with no one around you. I know that this is a horrifying concept, but bear with me.  Get a paper notebook (not something with internet access), and get yourself out into a secluded area  (a park, abandoned wherehouse, etc – whatever it takes to be alone), and VERY SPECIFICALLY write out your dream lifestyle. I'm not talking about compromising here, I'm talking about having the balls to actually fantasize for a moment about what type of life would make you truly happy. This obviously is gonna vary, but in all cases, be honest with yourself about what it is. Answer questions like: Where do you want to live? What do you want to spend your day doing? How many days a week do you want to work? What kind of life & career have you always dreamed about having, and what SPECIFIC steps can you take to get there if you're not there yet? What sacrifices do you need to make? How do you want to give back charitably once you get the means to do so? How do you want to be remembered? Then, review your plan regularly through the year. I've been doing this "blank sheet day" exercise annually for the last 3 years now, and suffice it to say that I can't even begin to tell you how much it has helped me personally. I'm also consistently entertained by how much my goals & general perspective changes.
If you are enjoying the process of pursuing your goals and crafting your career, you can consider yourself successful. This principle is hammered so very eloquently by Robert Hastings in his essay called The Station. As cliche as it sounds, the destination is far less important – and certainly far less real – than the journey. Life is merely a succession of days. What you do with each day determines the kind of life you'll create, and ultimately the kind of life you'll look back on.