My Unexpected Journey into PubMed

This is Not a Tutorial
Just to be clear, this isn't a tutorial on how to get published in the annals of the Ivory Tower. This is my personal case study, and you should know that I never intended to make it into the peer-reviewed literature. No such goals or aspirations were on my career bucket list. I was happy to be able to read others' work and report on it; this is just something I really enjoy. For me, writing & teaching was the natural progression after having been in the training & counseling trenches with live human clients full-time from 1992 to 2010. As fate would have it, I ended up being one of the folks that get cited by others who conduct and review scientific research. Let's take a walk through the steps that led me to stumble into PubMed.
It Began by "Keeping Science Honest" 
While trolling the message boards, I caught wind of the buzz surrounding a paper by Brad Schoenfeld challenging the practice of fasted cardio [1]. So, I decided to brashly email him and ask for the paper. I also asked him if it was okay for me to critique it in my monthly research review. To my surprise and delight, he responded by saying, "Have at it, Alan. Critical analysis is what keeps science honest."  This impressed the fricking hell out of me. Seriously, have at it? People are generally afraid of getting their material picked apart, especially since glowing, spotless reviews are a popular marketing tactic. What I found out about Brad is that he doesn't give the slightest damn about always being right. He cares about finding the truth, and has come to grips with the fact that this process involves being wrong at times. If the weight of the evidence indicates it, Brad will gladly admit error, and adjust his views accordingly. This is a huge part of the scientific mindset. Unfortunately, this is a rare quality among the self-absorbed characters that predominate the fitness industry and academia alike.
Brad's Response 
After I critiqued Brad's article (in the March 2011 issue), he responded by addressing each of my points, via email. His response was so thorough that I ran it in the following month's issue. Furthermore, he saw that I was one of the most obsessive-compulsive & detail-oriented nutcakes on the planet, so he asked me if I'd co-author a scientific review of the post-exercise 'anabolic window' concept. I jumped at the chance without hesitation. I was highly motivated since I felt that there was a huge amount of dogma surrounding this topic that needed to be straightened out. I was also driven to do this after becoming familiar with the top-tier quality of work Brad puts out (here are a few of his peer-reviewed publications). Now, here's the important point: not once did Brad get pissed-off or resentful at my dissection of his work. In fact, what most people would have turned into a massive ego defense, Brad turned into an opportunity to gain more knowledge.
The Birth of a Monster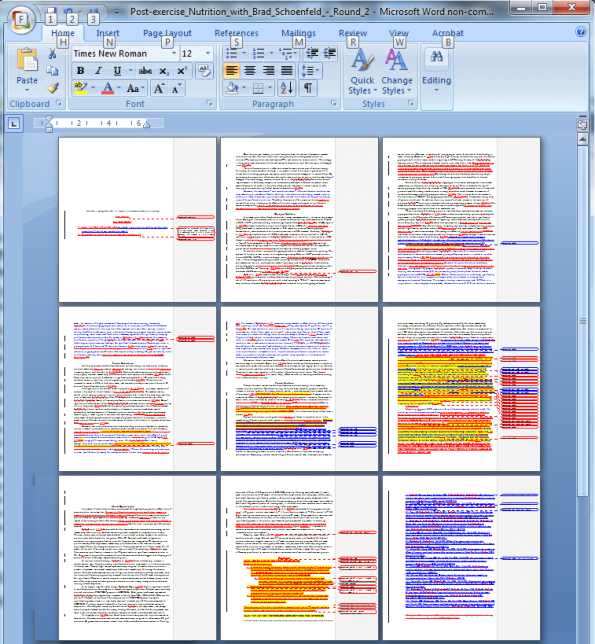 The carnage above is a screenshot of the paper in the midst of revision. Brad's approach to putting this together was extremely engaging and effective. He specifically asked me to play the devil's advocate and provide uncompromising counterpoints to the sections he wrote. He literally challenged me to "tear them up." What resulted was a paper that was maximally objective since this method minimized each of our pre-existing biases. The next step after completing the paper was getting it published, and this began with targeting the right journal.
JISSN in the Crosshairs
My top preferences for publication were the Journal of the International Society of Sports Nutrition (JISSN), International Journal of Sport Nutrition & Exercise Metabolism (IJSNEM), and the Journal of Strength and Conditioning Research (JSCR). These journals best matched the content of our paper, but it was clear that our paper "going viral" was only possible with an open-access journal, so JISSN was the ticket. IJSNEM makes it very difficult to access their studies even with university library accounts. JSCR is a journal that Brad has published in multiple times before, so landing a spot in JISSN would serve to broaden his reach. One distinct advantage of JISSN is that the ISSN is perched at the top of the food chain of authoritative sports nutrition organizations. JISSN has therefore had a relatively rapid rise into prominence [2].
Peer-review was challenging and rewarding. We duked it out a couple of rounds with the reviewers, and eventually got the nod [3]. Most importantly, we ended up with a vastly better paper after fielding the criticisms and implementing the suggestions of the reviewers.
WINNING!!!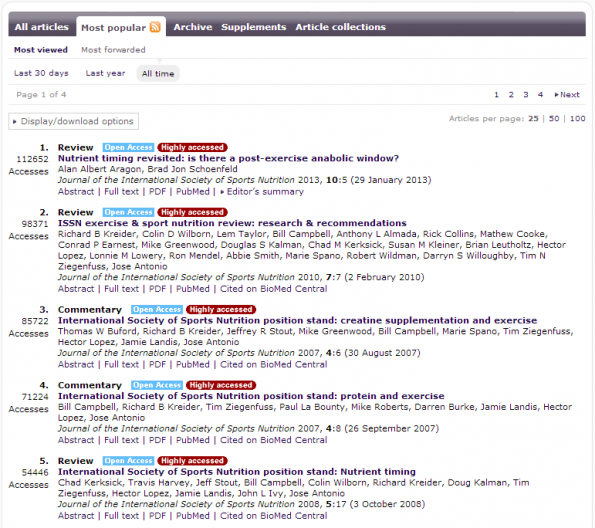 The screenshot above makes me smile because I never dreamed of getting published in the peer-reviewed literature – let alone co-authoring the number-one most viewed article in the history of JISSN. The goal of the article reaching a massive audience was achieved, and now we have quantitative evidence of this. This is such sweet vindication of the lost sleep, lapses in sanity, and countless internet arguments I've experienced over the years.
So, what's next? Now that I have one foot in the door of the Ivory Tower, I might as well muscle my way in even further (that's what bros do). I have more research in the works with Brad, and the next project involves a wizard named James Krieger. I'll keep you posted. In the meantime, I hope this story gives hope to those seeking to get 'immortalized' in The Pubmedz. If it can happen to me by accident, it can certainly happen to you on purpose.
December 2013 update: a meta-analysis on protein timing I co-authored with Brad Schoenfeld & James Krieger was just published, here it is. 
References
Schoenfeld BJ. Does cardio after an overnight fast maximize fat loss? Strength Cond J 2011. Aug;33(1):23-5. [NSCA-SCJ]
Kreider RB. Journal of the International Society of Sports Nutrition: a new era begins. J Int Soc Sports Nutr. 2007 Jul 13;4:1. [PubMed] [JISSN]
____________________________________________________________________